Thriving, healthy farming businesses & families
TAILORED FOR RURAL BUSINESSES & COMMUNITIES
Expert Health & Wellness Advice
If you're seeking help with your health and fitness, or that of your team, you want something that can deliver lasting change. And that is designed with the needs of rural businesses and people in mind.
Not a quick fix or a cookie-cutter program.
When we work together, we work on transforming more than just physical fitness.
The Farm Life Fitness approach uses functional fitness – exercise that will help you (and your team) perform better in life by building balance, strength, stamina, coordination and power.
But exercise isn't the only element of our approach. We work with you on all five pillars of lifestyle transformation – training, rest, work, networking and nutrition.
We know this approach works. And it can work for you.
The difference between who you are and who you want to be is what you do.
What are you going to do?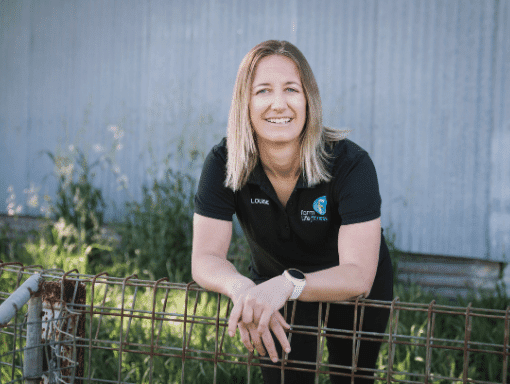 Louise & the Farm Life Fitness Team
I'm Louise O'Neill and I'm the woman behind Farm Life Fitness. I've hand-picked team of health and wellness specialists who work with our clients to define and achieve their goals. I work directly with our clients with the support of our expert team who add further dimensions of expertise to our offering.
At Farm Life Fitness, it's our mission to support businesses and individuals in the agriculture sector and rural communities Australia wide to transform overall health and well-being. When I'm not working with my clients, I'm active on our farm, so I truly appreciate what it's like to live and breathe life in agriculture.
I graduated University of Teesside in 2003 with a Bachelor of Science (Honours) in Sports Therapy and I bring with me the expert technical knowledge in human movement I developed during studies (and refined in the workplace). I'm now complementing that understanding of the body with the workings of the mind and am well on my way to completing a Bachelor degree in Psychology and Counselling.
So, what does that all mean?
I offer more than just get someone collating a bunch of exercises and helping to motivate you to workout. More than someone who's going to give you a template corporate health program they've already sold to a swathe of metro businesses.
Whether it's working with a business to develop and implement a corporate health program or one-on-one with a private client on their health goals, my expertise makes the difference.
From more than 15 years' experience in a career devoted to working with people to help them achieve their health and lifestyle goals, I have gained significant knowledge and insight as to how and why we don't always stay committed to our goals, indeed if we have them at all.  As a result of this, Farm Life Fitness brings that knowledge together to work on key frustrations in areas such as nutrition, time management, and work-life balance.
Your location and time constraints are not a barrier for Farm Life Fitness; we can work with you face to face or online for your convenience.
Connect & let's discuss your requirements